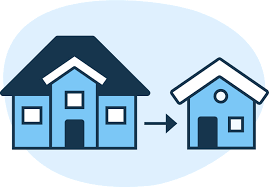 04 Oct

Sell a house to downsize quickly

Did you want to Sell a house to downsize quickly? The well-dressed home sells fast and for top dollar.

The emergence of staging and makeover services around the country is dictating a need that has been crying out to be met.

Real estate brokers and their agents have historically been generous with their expertise when it comes to landing a listing agreement with a home seller. Their knowledge about mortgage lending, appraisals and closing costs can fill up any briefcase.

But, who is advising the seller about the most vital link that connects the listing contract to the sales contract? Who is telling the seller their home will sit there, unsold, with minimal buyer activity, unless it is appealing and presentable to potential buyers?
The Value of Effective Communication
The listing agent hesitates to insult a new client with the comment that their home has a strange, unpleasant odor, or their bathroom needs a good cleaning. However, it is imperative to inform a home seller of these important "must do" tasks if their home is to sell within a reasonable period of time and for their list price or better.
Successful real estate agents know the value of effective communication with home sellers. They know how vital it is for some homeowners to make important changes or take action if they want their home to sell quickly.
Preparing your home for the selling period doesn't have to be tedious or expensive. You don't need to hire a professional cleaning crew or engage a staging company to bring on that "wow" factor. You simply need to follow a few simple steps and each future home sale will become less stressful and maybe even speed up the whole process toward that magic word, sold!
Here are the basic tips from my award-winning e-booklet, Sell Your Home – Fast, available on Amazon.
Think Like a Buyer
Make sure the first impression is a good one. Curb appeal should be neat and tidy. Ask a family member or a really good friend to take a ride with you around the block to your very own home. As a buyer, would you consider this house?
The appearance at your front door is far more important than most sellers realize. It's possible to introduce the dreaded "clutter factor" before a buyer even takes a step inside your home! And please, be sure to greet buyers with polished doorknob and doorknocker.
There is an odor the instant any front door is opened. Yours should be pleasant and fresh. We tend not to notice the smell of our own homes but strangers pick up every scent – good and bad. Pop a tray of cinnamon buns in a warm oven just before your agent brings potential buyers across your threshold. Their noses will love it!
Take a moment to document each room in your home with a camera. The camera gives a different view, plus photos may be helpful if needed for insurance purposes.
The Whole House is the Stage
When an agent brings a buyer to view your home, you should respect the fact that many people are allergic to animals. Others may actually be frightened by the tamest cat or dog. Pets should be out of sight, taking a walk or a ride.
Greet buyers with the right temperature. Be generous with air conditioning if it's warm outside, and have a toasty temperature indoors if they are coming in from the cold.
Of all the rooms in your home that can wrap up or close down a sale, the kitchen remains at the top of the list. A true cook and homemaker will inspect every cabinet, drawer, pantry and appliance – inside and out. The entire kitchen should sparkle. Beware of cluttered countertops.
Potential buyers will view your most private living spaces. Remove or stow personal items. Remember, you are thinking like a buyer and a buyer wants to imagine your home as their home. Consider a bowl of fresh flowers in bedrooms for a welcome sight and scent.
You may have to bribe the youngsters to keep their rooms in reasonable order while your home is on the market. Promise a treat or reward after a daily quick inspection. Provide a way for them to sign in and sign out after the clean-up each day.
Along with the kitchen, the bathrooms will be scrutinized top to bottom and corner to corner. Bathrooms should be absolutely spotless and odor-free. Place a container of quick wipe-up products in a cabinet for family to use before they exit.
Turn all lights on before the agent arrives with a possible buyer. Take a quick walk through each room – thinking like a buyer – and pay special attention to odors and clutter. Store personal photos, memorabilia and other family items out of sight. Again, a buyer should be able to visualize this as their home – not yours.
Basements, attics and garages are wonderful storage spaces but invite major clutter accumulation. Moving time is a good clean up and toss out time for storage spaces. Set a date to get this job done. Involve the family. And be sure to close the garage doors!
Make Yourself Scarce
Agents find that buyers are more forthcoming with what they like and don't like about a home if the owner is absent. Make yourself scarce until the showing is over. You will want to ask your agent for positive and negative comments from the potential buyer after each showing. Take these answers seriously and make repairs and necessary changes as soon as possible.
Put these proven tips to work, think like a buyer and have a friendly powwow about help you need and expect from family and/or friends. Separate "chore lists" might do the trick. This is a joint venture that requires teamwork. Gather that team together and watch how fast you will hear that welcoming word, sold!