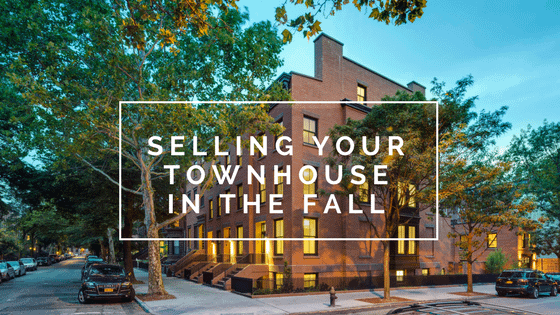 05 Oct

Sell Your Town House

Do you want to Sell Your Town House?Owning a townhouse makes for a wonderfully well-balanced life, offering all the amenities of a great condominium, often with more space and independence. You likely have your own little patch of front or backyard without a wide-open field to maintain, taking some of those weekend chores off your plate.But sharing walls with your neighbors and paying homeowners association fees isn't for everyone (in fact, it may be why you're moving!) For that reason, when you set out to sell your townhome, recognize that you may face a niche buyer pool. In fact, the majority of buyers across generations would prefer to purchase a single-family dwelling, according to Eyes on Housing.That's not to say your townhouse won't sell. Townhouses are ideal for buyers who are looking to downsize, get a bargain in a hot market, or lower their home maintenance burden, so yours will have lots of appeal. You just need a game plan to sell your townhouse fast — and that we've got (so keep reading!)
First, what's the definition of a townhouse?
While individual townhouse developments will vary in layout and features, the general characteristics of a townhouse include:
At least one shared wall with another townhome:
Townhouses are often constructed in rows of three, four, or more units, so middle units have two shared walls, and end-cap units share only one wall.
Relative uniformity across multiple units:
While different units will have subtle changes in bedroom count, bathroom count, and layout, many are quite similar to make their exteriors look uniform and neat.
Often (but not always) two or more stories:
One of the main distinctives separating townhouses from condominiums is the total number of stories per unit. Individual townhomes typically have multiple stories while condos have a single-story layout. However, it's not a hard and fast rule. Some townhouses are one story, especially townhouses in retirement living communities.
Maintenance fees to a shared organization, such as an HOA:
Because many townhouse developments have some shared common area and amenities, there is usually an association that regulates rules, fees, and expectations for residents while also handling any communal maintenance services.
Simple townhouses vs. condo townhouses: Know the difference
It's important to know and share with buyers what type of ownership setup you have with your townhouse, and therefore what type of ownership they'll be taking over from you. We spoke with Justin Willard, a top-selling agent in Pembroke Pines, Florida, to learn the difference and how to articulate either type of ownership as a selling point.
You are reading Sell Your Town House blog.
Fee simple townhouses
A fee simple townhouse's sale and ownership is structured very similarly to a single-family home, where your ownership contract extends to everything from the roof down to the land that your home sits on. Willard makes sure that buyers of a fee simple townhouse understand what this ownership entails, and encourages them to look into what kind of maintenance is handled by their HOA versus what is still their responsibility.
As a seller, you'd want to sell the freedom that comes with owning your whole property, such as the ability to make modifications to the building or yard that might not be possible in a condo townhouse.
Condo Townhouses
"The condo townhouse, on the other hand, is where you'll only own the interior structure inside the exterior walls," Willard explains. "These will often carry higher maintenance payments, since more of the external maintenance and landscaping is included."
Condo townhouses, on the whole, are closer to that ideal of "maintenance-free" living, where the yards and roofs are owned by and therefore maintained by the owner of the townhouse development. If you're selling a condo townhouse, you can emphasize the freedom to enjoy your time in the home without worrying about the condition of the roof or the lawn maintenance yourself.
Knowing which kind of townhouse you have and selling its benefits as part of your marketing is key to finding buyers and making sure they aren't surprised down the line.
Tips for selling your townhome fast
You may find that, despite a more limited buyer pool, your townhome sells fast as an affordable alternative to larger single-family residences and low maintenance option for downsizing seniors. "The general turn time on townhouses is somewhere between 3 and 30 days," says Willard of the townhome trends in his area.
That's fast!
However, there is no reason not to put your best foot forward with our tips for selling your townhouse quickly.
You are reading Sell Your Town House blog.
1. Partner with a townhome expert
Your first step is to talk to top real estate agents in your area and make sure they have proven experience in the townhouse market. Even in areas where townhouses sell like hotcakes, the right agent will be able to maximize the value of your townhome while moving the sale along at a quick clip.
An agent with a history selling townhomes will help you price the unit based on current market trends, tap into their network to see if any of their colleagues have buyers looking for properties like yours, and tailor your marketing efforts to reflect what local townhouse buyers are looking for.
You are re
How to find townhouse experts in your agent search
To verify an agent's townhouse experience, look at their transaction history to see how many townhouses they've sold in your area successfully. You can check the agent's HomeLight profile to see if they're a"townhouse expert" based on whether they've sold more of these types of properties than their local peers on average.
If you'd rather let someone else do the legwork, HomeLight will hand match you with a few local agents who have direct and relevant experience selling townhouses near you, and you can make your selection from there.
What does a townhouse expert bring to the table?
Willard, who has worked extensively with townhouse sellers in the area, says that many different types of buyers can envision living in a townhouse — if they fully understand the benefits. He'll point out to younger families who can't afford a single-family home that buying a townhouse is a stepping stone. They can sell it quickly when they are ready to move on, or to turn it into a rental property. In this way, your agent can help show how a townhouse purchase now helps them achieve their goals long-term.
You are reading Sell Your Town House blog.
2. Price the townhouse to sell
Townhouses are generally less expensive than comparable single-family homes, which attracts buyers who aren't ready for the expense and upkeep of a larger property.
"Townhomes are often priced between $25,000 to $40,000 less than a single-family home of the same square footage," says Craig LeMessurier, Sr. Director of Public Relations and Communications with KB Homes, a prominent real estate developer. "Some buyers see value in purchasing an attached home that has similar square footage, functionality, and bedroom count as a typical detached home."
The value of your townhouse will depend on local demand, but a major benefit in setting the price, however, is the availability of comparable sales.
"There is usually a decent amount of liquidity in larger townhouse communities," says Willard. "Identifying other units with the same square footage, attributes, and amenities is usually fairly easy."
It's worth investigating whether local building developers are expanding the amount of available townhouses in your region or if supply is constricting. In Q1 of 2019, for instance, there were fewer new townhomes constructed in the United States than in 2018. If this is the trend in your area, your townhouse is likely to turn around faster due to lower inventory, though you'll also have to be aware of how it compares with the available single-family housing options.
In certain markets, especially those on the expensive side, many potential buyers who initially considered a single-family home will realize they can afford a nicer, larger townhouse that is closer to their ideal location. The California Association of Realtors, for instance, pointed out in 2018 that 43% of millennial buyers in the San Francisco market often compromise with a townhouse or condominium in the suburbs if the market for single-family housing priced them out.
3. Highlight community perks
While owning a townhouse sometimes involves paying maintenance fees to the HOA, you and your agent can use the perks generated from that fee as a selling point.
Does your townhouse have direct access to local trails, a walking path around a pond, or a pool? Is snow removal or some lawn maintenance provided by the community? These perks make the experience of living in an affordable and beautiful townhouse community more attractive to potential buyers, so be sure to market them in your listing.
Another factor to highlight: The National Association of Realtors (NAR) did a study on the benefits of homeownership on social behaviors, and they noted that the effects of homeownership on community and civic engagement were "more pronounced" in attached housing like townhouses.
Potential townhouse buyers may be worried about the physical proximity to their neighbors. However, you can tell them about how when all your neighbors own their own homes, the pride of ownership is a source of bonding and community building.
4. Market the surrounding area
Townhouses are often located conveniently close to shops, community attractions, and easy commuting thoroughfares. KB Homes focused on creating homes that were convenient to the Las Vegas area for some of their developments as part of their appeal.
"These townhomes feature attached garages, expansive great rooms and master bedrooms but have way less yard maintenance," says LeMessurier. "Less maintenance means buyers have more time to enjoy the tremendous lifestyle and activities that Las Vegas has to offer."
Other townhome developments have walking paths, community ponds for fishing, and other communal park-like resources that you don't have to leave the development to enjoy.
5. Sell your unit's unique offerings
Just because your townhouse is attached to other homes doesn't mean that it can't stand out from the crowd. If your particular unit happens to be on an end cap, that is often seen as a plus, given that you've only got a neighbor on one side.
If your unit happens to have a little more yard, a patio, or a pretty view, make sure those features stand out in the listing photographs and in conversations with buyers. Don't let buyers feel like they've seen a single townhouse and therefore seen them all.
Agents like Willard point out that differentiating your home has to do with emphasizing spaciousness. One or two shared walls does lower the potential space for windows, so focusing on how bright the space is really helps buyers envision living there happily.
"We're making sure all the windows are open to bring the light in from outside," says Willard. "We want the homes to feel as light, bright, and airy as entirely possible."
While many townhomes are situated on multiple levels, if you have a one-story townhouse, you can market that aspect as well. NAR reports that 42% of buyers ages 55 and older say that finding a home on a single level is important to them.
6. Stage your townhouse to maximize its available space
When it comes to staging your townhouse to sell, you want to show how your unit offers comparable comforts and features to a single-family house with the affordability of multi-unit buildings.
Here are some townhouse staging tips:
More than in other kinds of homes, minimize clutter.
Remove clutter entirely to a basement storage area or off-site storage unit. To be able to show the benefits of townhouses over other multi-family housing options, you will need to highlight ample storage, with pristine closets available to open and view. Decluttering often yields enormous ROI, as much as 432% according to our Q1 2019 Top Agent Insights Survey, so it's well worth any time and money spent.
Make the most of outdoor space.
Townhouses aren't known for having large yards, but having a smaller yard, patio, or porch gives you the opportunity to make every inch look its best.
Keep your yard green and luscious. Stage the area with attractive but simple patio furniture, like this bistro set from Lowe's. Smaller spaces that appear polished and beautiful appeal to busy professionals who won't have the time or inclination to keep up with a large yard's maintenance.
Open windows and use consistent light bulbs.
Willard says that attention to detail, like making sure all of the light bulbs room to room are a consistent color, pays off. Consider installing warm white LED bulbs throughout your townhome — between showering the home with a consistent golden glow and opening the blinds to maximize natural light, you'll get better listing photos as well as leave a good impression during showings.
7. Disclose HOA fees
HOA fees shouldn't be a secret; buyers in the market for a townhouse are going to expect them, and they'll want to know how they tend to change year over year.
Make all of this information readily available, but always add the positive spin of what the HOA involves. Often, having this organization means that the whole neighborhood, not just your home, will receive regular upkeep that ensures a comfortable and pleasant place to live as well as future resale value.
"With townhouses, we're selling the lifestyle," says Willard.
"Selling the attributes and the amenities in the entire community is incredibly important. It's a lifestyle that also ties into the nearby schools and local attractions."
When HOA fees seem high, it's important to add the perspective of what is included in those fees so that your potential buyers can really compare apples to apples in their budget calculations.
"Consider all that is included and market that as well," says Willard. "Maintenance will include things, oftentimes, like cable internet, landscaping, exterior painting, pressure cleaning, and assessing to replace communal roofs uniformly, as opposed to doing them one at a time."
Even with an HOA fee, many people find townhouses a more affordable option that leaves them with more free time because their fees pay for those maintenance costs.